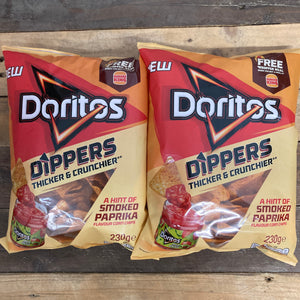 2x Doritos Dippers Smoked Paprika Flavoured Tortilla Chips Bags (2x230g)
Regular price £5.00 £2.50 On Sale
2x Doritos Dippers Smoked Paprika Flavoured Tortilla Chips Bags (2x230g) Take your dipping game to the next level with our Doritos Dippers Smoked Paprika Flavoured Tortilla Chips! Perfectly thick and crunchy, these tortillas are specifically designed for dipping and loaded nachos. Whether you're scooping up melted cheese or chunky tomato salsa, our Dippers are perfectly seasoned with a hint of delicious smoked paprika flavour that complements any dip or topping without overpowering it. And best of all, they're suitable for vegetarians. Make your play and dip any way you like with our mighty chips!
These are £2.50 per pack in the supermarkets
Ingredients
Corn (Maize), Rapeseed Oil, Hint of Paprika Flavour [Sugar, Paprika, Salt, Whey Permeate (from Milk), Onion Powder, Potassium Chloride, Flavouring, Colour (Paprika Extract), Garlic Powder, Carob Flour, Acidity Regulators (Citric Acid, Malic Acid), Smoke Flavouring], Antioxidants (Rosemary Extract, Ascorbic Acid, Tocopherol Rich Extract, Citric Acid).