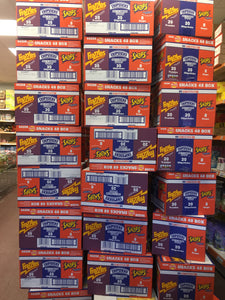 Walkers snacks 48 box (Frazzles, Chipsticks & Snaps)
Regular price £10.00 £3.95 On Sale
SMITHS WALKERS SNACK 48 Pack Variety BOX - 20 FRAZZLES Crispy Bacon, 20 CHIPSTICKS Salt 'N' Vinegar Flavour, SNAPS Spicy Tomato Flavour
 20 x Frazzles Crispy Bacon Flavour Corn Snacks 18g - bacon-flavour corn-based snack sold in the United Kingdom since 1975, once manufactured by Smiths, now by Walkers. The packet has kept to the same crimson background with yellow writing style throughout the years. Frazzles are styled as rashers of bacon and because of this are very recognisable.
20 x Chipsticks Salt 'n' Vinegar Flavour Maize & Potato Snacks 17g - Chipsticks have been around since 1971 and these crispy, crunchy sticks, full of your favourite Salt & Vinegar flavour, are as delicious now as they have always been!
8 x Snaps Spicy Tomato Flavour Crisp & Light Potato Snacks 13g - Melt in your mouth spicy tomato flakes of crisp. They are delicious, flavourful crisps that make a great alternative to the more classic crisps.