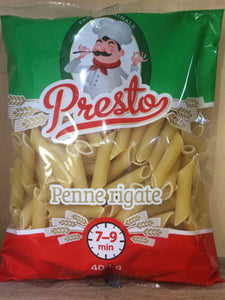 Presto Penne Pasta 400g
Presto
Regular price £0.80 £0.39 On Sale
Tube-shaped dough made from soft wheat flour. Hard wheat pasta in the shape of Penne, ideal for cooking gourmet dishes with guests or family celebrations.
Durum wheat is synonymous with Italian pasta in the world value, quality, goodness, energy and nutrition. Produced in the expanses of sunny southern Italy, grain rich in minerals, vitamins and proteins. The Penne are part of the oblique cut short pasta. They originate in Campania in Italy.
The word 'penne' comes from the Italian meaning feathers (its oblique cut is the origin of the name because of its resemblance to the writing pen). The ideal condiments for Penne are meat mince in general: pork, beef, sausage, cooked or stewed; They also combine very well with vegetables and mushrooms.