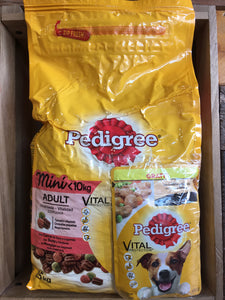 Pedigree Vital Protection Adult Mini With Beef and Vegetables 1.5KG
Pedigree
Regular price £4.50 £1.95 On Sale
Pedigree Vital Protection Adult Mini With Beef and Vegetables is specially developed with the essential nutrients that guarantee the energy needed for your small breed adult dog.
Preparation and Usage
Daily feeding instructions:
Body weight: (kg): 3, g/day: 60, kcal: 217
Body weight: (kg): 5, g/day: 85, kcal: 318
Body weight: (kg): 7, g/day: 110, kcal: 409
Body weight: (kg): 10, g/day: 145, kcal: 534
Body weight: (kg): 15, g/day: 195, kcal: 724
Tip: A half pint mug holds approximately 100g 371 kcal/100g
Feeding instructions You might need to adjust the amount of food according to the level of activity, breed and age of your dog. Allow a transition phase when offering new food. Fresh water should always be available.
Ingredients
Cereals, Meat and Animal Derivatives (including 4% Beef), Oils and Fats (including 0.2% Fish Oil, 0.2% Sunflower Oil), Derivatives of Vegetable Origin (including 4% Dried Beet Pulp), Minerals (including 0.7% Sodium Tripolyphosphate), Antioxidants, Preservatives