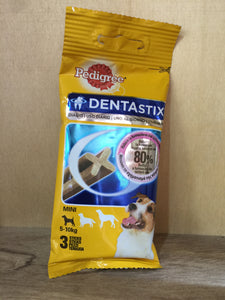 Pedigree Dentastix 3 pack
Pedigree
Regular price £1.99 £0.55 On Sale
Pedigree® Daily DentaStix® are uniquely X shaped dental sticks that are scientifically proven to help reduce tartar build-up by up to 80%, when fed daily.
Pedigree® Daily DentaStix® are designed to be chewed for long enough to be effective, with a gently abrasive texture and active ingredients that help to reduce the build-up of plaque and tartar.
Tasty but low in fat, with no added sugar and free from artificial colours and flavours. Pedigree® - feed the good in your dog.
Dogs use their mouth for everything, so having healthy teeth and gums is absolutely essential for them to be the best version of themselves. Yet 4 out of 5 dogs over the age of 3 years suffer from gum disease, which can slow them down as well as lead to vet's treatment.
With the help of vets and nutritionists at Waltham™ Centre for Pet Nutrition, Pedigree® has developed a range of tasty dog chews that reduce plaque and tartar build-up, helping to lower the risk of gum disease.