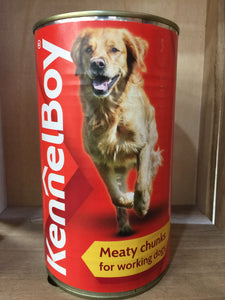 KennelBoy Meaty Chunks 1200g
Kennelboy
Regular price £1.00 £0.65 On Sale
The Kennelboy dog food is a complete and balanced delicious meal for working dogs. What dog could resist this tasty, succulent, meaty pate type food. This appetising food will have your dog licking his lips in eager anticipation. 
Feeding guide:
Breed Size Dog Weight Cans per day
Medium 10-20kg 2/3 - 1 can
Large 20-45kg 1 - 2 cans
Extra Large 45-75kg 2 - 3 cans
Best served at room temperature. Once opened, keep refrigerated and use within 2 days.
Please make sure there is plenty of fresh, clean water available.
Store in a cool, dry place.
Composition: 
Meat and Animal Derivatives, Cereals, Derivatives of Vegetable Origin, Various Sugars, Minerals.
Analytical Constituents:
Protein: 7%
Fat Content: 5.5%
Crude Fibre: 0.5%
Inorganic Matter: 2.6%
Moisture: 79%