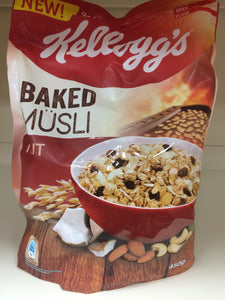 Kelloggs Baked Nut Musli 450g
Regular price £2.99 £0.75 On Sale
Baked muesli with crunchy almonds, crunchy cashews, roasted coconut pieces and raisins.
The new Baked Mueslis are available in the classic versions Choco and Nut, in the resealable 450 g stand-up pouch. Due to the baking process, lower fat and calories than comparable cereals.
Ingredients: wholegrain cereals (wholegrain oats (39%), barley (19%), rye (19%)], sugar, dried fruits (6.5%) (raisins, coconut), nuts (5.5%) (cashews, almonds ), Sunflower oil, molasses, natural flavor, sodium bicarbonate, emulsifier (soya lecithin), skimmed milk powder.