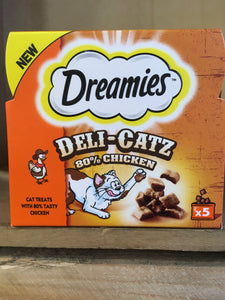 Dreamies Deli-Catz Chicken Meaty Cat Treats 5 Pack (5x5g)
Webbox
Regular price £1.29 £0.50 On Sale
Dreamies Deli-Catz Chicken Meaty Cat Treats 5 Pack Juicy, meaty cat treats made from 80% meat, valuable vitamins and nutrients, and free from artificial additives. Each daily portion comes in an individual pouch, with each treat containing just 2kcal!
Dreamies Deli-Catz are tasty treats for your cat, in delicious, fresh and juicy meat flavours, the ideal snack for between meals. These irresistible soft treats contain 80% meat and are free from artificial colours and additives. They are high in meat but low in calories, with just 2 kcal per treat! These Dreamies Deli-Catz are available in three delicious flavour varieties, so your cat can choose from chicken, turkey and beef. They are enriched with valuable vitamins and minerals, which support a healthy urinary tract and help ensure nourished, glossy fur. Each tasty treat is the perfect size for your cat, with each portion in a sealed pouch for freshness, to ensure optimal flavour every time. Dreamies Deli-Catz are an absolute dream for every gourmet-loving cat! Dreamies Deli-Catz at a glance: Tender, juicy, meat cat treats for between meals With 80% meat from chicken, turkey or beef Fewer than 2 kcal per treat 3 flavours: for great variety With vitamins and minerals: for healthy urinary tract, skin and coat Perfect size: easy to eat Sealed pouch for freshness: to ensure premium flavour 5g packs: the ideal daily portion in each pouch
Ingredients
Beef: Meat and animal by-products (incl. 80% beef), vegetable by-products, minerals, oils and fats.