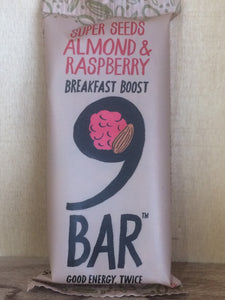 9NINE Super Seeds Almond & Raspberry Breakfast Bar 50g
9Nine
Regular price £0.99 £0.35 On Sale
9Nine Super Seed Breakfast Almond and Raspberry Bar. Perfectly packed with sunflower, pumpkin, sesame, hemp, gluten free oats, almonds and raspberries, there is no better way to get you going in the morning. 9NINE Breakfast Almond & Raspberry is an early morning super-boost that will spring you into action. With super seeds, slow-release energy oats and almond and raspberries, this really is the king (or queen) of breakfast bars. Like all 9NINE snacks, it's lovingly handmade in the Vale of Llangollen in North Wales, using only the finest natural ingredients.
Our products are more than just snacks, they bring a positive state of mind and a healthy enthusiasm for life. Seeds are and always will be at the heart of our brand and we strongly believe everyone should be given access to healthier snacking alternatives that have a positive impact not just on their body but on their mind and soul too, so if we spot an opportunity to help make this happen…we will! We love a positive and enthusiastic attitude at 9NINE – it's built in our DNA and we will continue to seed change as we grow our much loved brand. Explore our heritage below and discover your own 9NINE feeling.
Ingredients
Mixed seeds (sunflower, pumpkin, sesame, dehulled hemp) (26%), Rice syrup, Gluten free oats, Agave nectar, Soya protein crispies (soya protein isolate, tapioca starch, salt), Crisped rice (rice flour, rice bran, sugar, rice extract), Almonds (6%), Vegetable oils (palm, rapeseed), Sugar, Chicory fibre, Freeze dried raspberries (1%), Dicalcium phosphate, Natural flavourings, Acid: Citric acid, Salt.